Chicken Hot Dog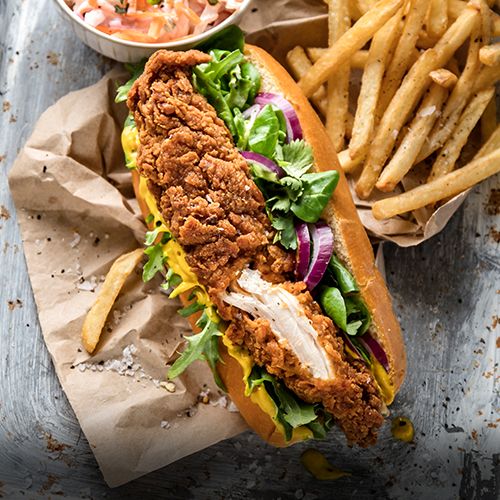 Recreate this delicious Chicken Hot Dog using our Southern Fried Chicken Strips.

Prep Time

Cook Time

Serves 1
Ingredients
x2 Homestyle Southern Fried Chicken Strips
x1 Brioche Hot dog bun
20g Slaw
10g Chillies
5g Chives
25ml Cheese Sauce
1/2 Lime
5g Cajun seasoning
150g Fries
15ml Hot sauce
15g Lettuce
15ml American Mustard
Method
Step 1
Cook the fries and chicken using your preferred cooking method.
Step 2
Toss the fries in Cajun seasoning then line a serving tray with greaseproof paper and fill with the fries, garnish the fries with Cheese sauce, spring onions and Chillies.
Step 3
Quickly bar mark the top of the brioche bun on the char grill/grill.
Step 4
Fill the brioche bun with salad and top with the chicken strips. Drizzle over the hot sauce and American mustard.
Step 5
Garnish the hot dog with chopped chives and sliced chillies.
Step 6
Place the hot dog on top of the fries and put half a lime and slaw in the corner of the dish to complete.
Ingredients
x2 Homestyle Southern Fried Chicken Strips
x1 Brioche Hot dog bun
20g Slaw
10g Chillies
5g Chives
25ml Cheese Sauce
1/2 Lime
5g Cajun seasoning
150g Fries
15ml Hot sauce
15g Lettuce
15ml American Mustard
Related Products
Meadowvale Battered Chicken Mini Fillets (40g)

N1411301

Meadowvale Breaded Chicken Mini Fillets (40g)

N1413803

Meadowvale Southern Fried Chicken Mini Fillets 40g

N1413901

Homestyle Hot & Spicy Chicken Strips (35g)

N1452004

Homestyle Breaded Chicken Strips (35g)

N1452006
Meadowvale Battered Chicken Mini Fillets (40g)
N1411301
Meadowvale Breaded Chicken Mini Fillets (40g)
N1413803
Meadowvale Southern Fried Chicken Mini Fillets 40g
N1413901
Homestyle Hot & Spicy Chicken Strips (35g)
N1452004
Homestyle Breaded Chicken Strips (35g)
N1452006
More Menu Ideas
Firecracker Salad

Ultimate Street Food Wrap

Crunchy Chicken Taco

BBQ Bites