Chicken Pho Noodles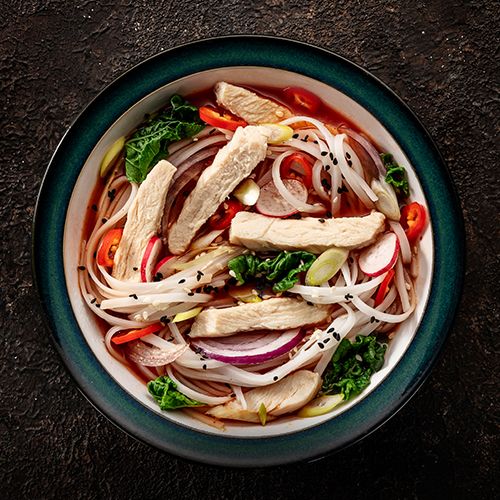 Recreate these authentic Chicken Pho Noodles using our Goodness Me! Cooked Chicken Strips.

Prep Time

Cook Time
Serves 24
Ingredients
1 bag of Goodness me 12mm Strips
450g rice noodles
4 spring onions
Coriander
1 kaffir lime leaf
1 lime
1 tbsp vegetable oil
3 shallots
3 garlic cloves
1 lemongrass stalk
Ginger 2½ cm piece
1 cinnamon stick
1 tsp coriander seeds
¼ tsp Chinese five spice
¼ tsp black peppercorns
1 tsp caster sugar
1 tbsp
1½ litres good quality fresh chicken stock
1 tbsp Fish Sauce
3 Red Chilli
10g Sesame seeds
Method
Step 1
Gently brown off the Onions and Garlic. Then add the spices, Chopped Chilli's and ginger.
Step 2
Add the chicken stock and Fish Sauce then simmer very gently for 15 mins.
Step 3
Strain the soup through a sieve and put aside.
Step 4
Cook the noodles in boiling water ensuring not to overcook them. Once cooked cool them under cool water.
Step 5
Bring the soup back to a gentle boil then add a bag of the Goodness me 12mm chicken strips (from frozen or thaw). Allow the soup to simmer gently till the chicken is piping hot through.
Step 6
Place a hand full of noodles in a serving dish and pour over a ladle of the soup and garnish with fresh coriander, Chillies and Sesame seeds.
Chicken Pho Noodles Menu Idea
Ingredients
1 bag of Goodness me 12mm Strips
450g rice noodles
4 spring onions
Coriander
1 kaffir lime leaf
1 lime
1 tbsp vegetable oil
3 shallots
3 garlic cloves
1 lemongrass stalk
Ginger 2½ cm piece
1 cinnamon stick
1 tsp coriander seeds
¼ tsp Chinese five spice
¼ tsp black peppercorns
1 tsp caster sugar
1 tbsp
1½ litres good quality fresh chicken stock
1 tbsp Fish Sauce
3 Red Chilli
10g Sesame seeds
Related Products
Goodness Me Whole Chicken Fillets (80g)

G1450100

Goodness Me Cooked Chicken Diced (19mm)

G1450300

Goodness Me Crispy Chicken Bites (21g)

G1450500

Goodness Me Small Crispy Chicken Fillets (40g)

G1450600

Goodness Me American Style Chicken Fillets (90g)

G1450700
Goodness Me Whole Chicken Fillets (80g)
G1450100
Goodness Me Cooked Chicken Diced (19mm)
G1450300
Goodness Me Crispy Chicken Bites (21g)
G1450500
Goodness Me Small Crispy Chicken Fillets (40g)
G1450600
Goodness Me American Style Chicken Fillets (90g)
G1450700
More Menu Ideas
Crunchy Chicken Taco

Firecracker Salad

The Buttermilk Chizza

Miso Noodle Bowl