Chicken Salad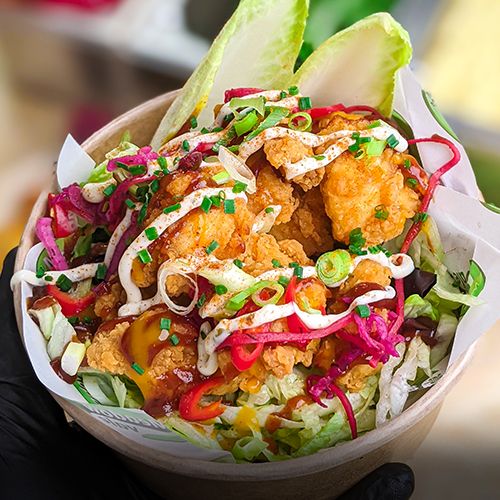 Prep Time

Cook Time
Serves 1
Ingredients
5x Homestyle Hot and Spicy Chicken Bites
50g Crisp Salad Leaves
10g Spring Onions
10g Chillies
5g Chopped Chives
15ml Mango sauce
20g Pickled Pink Slaw
15ml Garlic Sauce
1/2 Avocado
Method
Step 1
Cook the chicken using your preferred cooking method.
Step 2
Build up the salad in a takeaway style bowl and top with the Hot and Spicy Chicken bites.
Step 3
Drizzle over the mango sauce and garlic sauce, drape over the avocado slices and pickled pink slaw.
Step 4
Garnish with chopped chives, chillies and spring onions.
Ingredients
5x Homestyle Hot and Spicy Chicken Bites
50g Crisp Salad Leaves
10g Spring Onions
10g Chillies
5g Chopped Chives
15ml Mango sauce
20g Pickled Pink Slaw
15ml Garlic Sauce
1/2 Avocado
Related Products
Meadowvale Pickin Chicken (15g)

N1410224

Homestyle Breaded Chicken Fillets (120g)

N1452001

Homestyle Hot & Spicy Chicken Fillets (120g)

N1452002

Homestyle Southern Fried Chicken Fillets (120g)

N1452003

Homestyle Hot & Spicy Chicken Strips (35g)

N1452004
Meadowvale Pickin Chicken (15g)
N1410224
Homestyle Breaded Chicken Fillets (120g)
N1452001
Homestyle Hot & Spicy Chicken Fillets (120g)
N1452002
Homestyle Southern Fried Chicken Fillets (120g)
N1452003
Homestyle Hot & Spicy Chicken Strips (35g)
N1452004
More Menu Ideas
Firecracker Salad

Chicken Pho Noodles

Ultimate Street Food Wrap

Crunchy Chicken Taco