Classic American Burger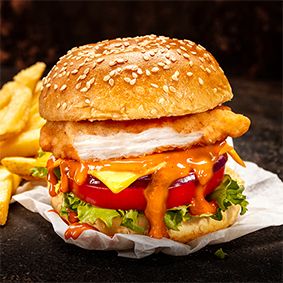 A Classic Chicken Burger using our Goodness Me! American Style Fillets.

Prep Time

Cook Time
Serves 24
Ingredients
24x Seeded Brioche Bun
24x Goodness Me! American Style Fillets
260ml Kansas BBQ Sauce
260ml Louisiana Mustard
24x Monterrey Jack Cheese
400g Salad Leaves
1200g Skin on Fries
600g Red Cabbage
550ml Mayonnaise
50g Chives
Method
Step 1
Finely Slice the red cabbage and chives then mix through the mayonnaise to create the purple slaw.
Step 2
Cook the American style chicken fillets using your preferred cooking method. Deep fry the skin on fries for 4-5 minutes at 180c.
Step 3
Toast the brioche buns under the grill or using a chargrill.
Step 4
Layer up the burgers starting with Louisiana mustard, salad, tomato slice, American Style fillet, cheese slice, Kansas BBQ sauce then top with burger bun.
Step 5
Bring the dish together on a tray lined with greaseproof paper for a 'street food' style look.
Classic American Burger Menu Idea
Ingredients
24x Seeded Brioche Bun
24x Goodness Me! American Style Fillets
260ml Kansas BBQ Sauce
260ml Louisiana Mustard
24x Monterrey Jack Cheese
400g Salad Leaves
1200g Skin on Fries
600g Red Cabbage
550ml Mayonnaise
50g Chives
Related Products
Goodness Me Whole Chicken Fillets (80g)

G1450100

Goodness Me Cooked Chicken Strips (12mm)

G1450200

Goodness Me Crispy Chicken Bites (21g)

G1450500

Goodness Me Small Crispy Chicken Fillets (40g)

G1450600

Goodness Me American Style Chicken Fillets (90g)

G1450700
Goodness Me Whole Chicken Fillets (80g)
G1450100
Goodness Me Cooked Chicken Strips (12mm)
G1450200
Goodness Me Crispy Chicken Bites (21g)
G1450500
Goodness Me Small Crispy Chicken Fillets (40g)
G1450600
Goodness Me American Style Chicken Fillets (90g)
G1450700
More Menu Ideas
Chicken Pho Noodles

Chicken Hot Dog

The Buttermilk Chizza

Ultimate Street Food Wrap