Crunchy Chicken Taco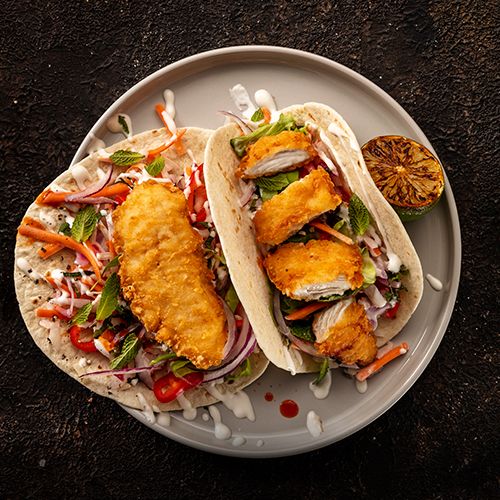 Recreate this delicious Crunchy Chicken Taco using our Goodness Me Crispy Smalls.

Prep Time

Cook Time
Serves 1
Ingredients
2x Small Crispy Fillets
15g Red Chilli
15g Spring Onion
1x Wrap
30g Pink Slaw
15g Lettuce
15ml Mayonnaise
15ml Hot Sauce
Method
Step 1
Cook the chicken strips using your preferred cooking method, while the chicken is cooking fill each wrap with salad and slaw.
Step 2
Place one chicken strip in each wrap on top of the salad garnish.
Step 3
Drizzle over the Hot sauce and Mayonnaise then garnish with Spring Onions and Chillies. Place half a lime in the corner of the dish to finish.
Crunchy Chicken Taco Menu Idea
Related Products
Goodness Me Whole Chicken Fillets (80g)

G1450100

Goodness Me Cooked Chicken Strips (12mm)

G1450200

Goodness Me Cooked Chicken Diced (19mm)

G1450300

Goodness Me Crispy Chicken Bites (21g)

G1450500

Goodness Me American Style Chicken Fillets (90g)

G1450700
Goodness Me Whole Chicken Fillets (80g)
G1450100
Goodness Me Cooked Chicken Strips (12mm)
G1450200
Goodness Me Cooked Chicken Diced (19mm)
G1450300
Goodness Me Crispy Chicken Bites (21g)
G1450500
Goodness Me American Style Chicken Fillets (90g)
G1450700
More Menu Ideas
Firecracker Salad

Miso Noodle Bowl

Classic American Burger

Ultimate Street Food Wrap