Firecracker Salad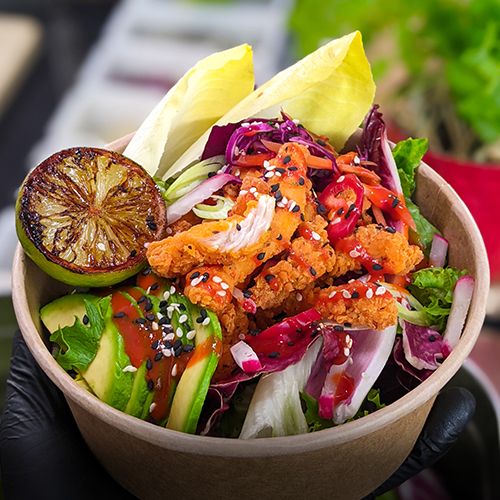 Our firecracker salad offers you a delicious, healthy option for your menu using our Homestyle Salt & Chilli Shredded Chicken.

Prep Time

Cook Time
Serves 1
Ingredients
50g Salt & Chilli Shredded
1x Chicory Head
2x Radish
30g Pickled Red Cabbage
1x Spring Onion
10g Edamame Beans
50g Avocado
20g Yellow Pepper
20g Salad Leaves
15ml Sriracha Hot Sauce
Method
Step 1
Fill a takeaway bowl with salad leaves and two chicory leaves upright on side of bowl.
Step 2
Cook the shredded chicken using your preferred cooking method, did you know it fry's from frozen in just 90 seconds!
Step 3
Place chicken in the centre of the bowl. Put half a lime next to the chicory leaves along with slaw.
Step 4
Drizzle the Sriracha Sauce in a zig zag motion. Garnish with crispy chillies, Spring onions and finally sesame seeds.
Ingredients
50g Salt & Chilli Shredded
1x Chicory Head
2x Radish
30g Pickled Red Cabbage
1x Spring Onion
10g Edamame Beans
50g Avocado
20g Yellow Pepper
20g Salad Leaves
15ml Sriracha Hot Sauce
Related Products
Homestyle Hot & Spicy Chicken Strips (35g)

N1452004

Homestyle Southern Fried Chicken Strips (35g)

N1452005

Homestyle Breaded Chicken Strips (35g)

N1452006

Homestyle Crunchy Shredded Chicken

N1452010

Homestyle Salt & Pepper Shredded Chicken

N1452011
Homestyle Hot & Spicy Chicken Strips (35g)
N1452004
Homestyle Southern Fried Chicken Strips (35g)
N1452005
Homestyle Breaded Chicken Strips (35g)
N1452006
Homestyle Crunchy Shredded Chicken
N1452010
Homestyle Salt & Pepper Shredded Chicken
N1452011
More Menu Ideas
Crunchy Chicken Taco

Loaded Fries

The Buttermilk Chizza

Chicken Pho Noodles