Loaded Fries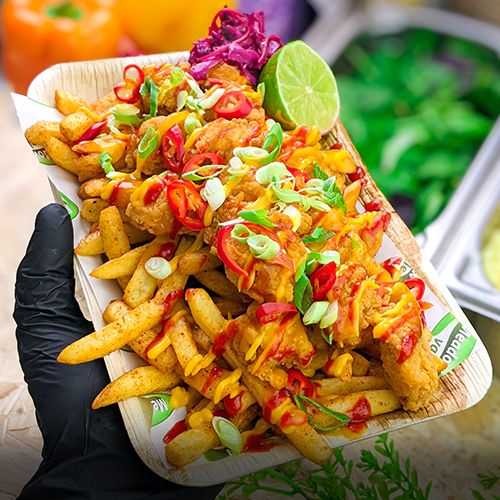 Recreate these dirty fries using our fast food favourite Pickin' Chicken.

Prep Time

Cook Time
Serves 1
Ingredients
Pickin Chicken x6
Fries 200g
Chillies 10g
Spring Onions 10g
Cheese sauce 50ml
Pickled Slaw 20g
Garlic Mayo 15ml
Sriracha sauce 15ml
Mango Sauce 15ml
Cajun Seasoning 5g
Lime ½
Method
Step 1
Cook the fries and chicken using your preferred cooking method.
Step 2
Toss the fries in Cajun seasoning then line a serving tray with greaseproof paper, fill with the fries then top with the chicken.
Step 3
Drizzle over the cheese sauce, sriracha and garlic mayo.
Step 4
Garnish the dish with sliced chillies, spring onions over the top and half a lime and slaw in the corner of the dish. Finish with a drizzle of mango sauce and serve.
Ingredients
Pickin Chicken x6
Fries 200g
Chillies 10g
Spring Onions 10g
Cheese sauce 50ml
Pickled Slaw 20g
Garlic Mayo 15ml
Sriracha sauce 15ml
Mango Sauce 15ml
Cajun Seasoning 5g
Lime ½
Related Products
Goodness Me Crispy Chicken Bites (21g)

G1450500

Meadowvale Mini Chicken Fillet Bites (5g)

N1410204
Goodness Me Crispy Chicken Bites (21g)
G1450500
Meadowvale Mini Chicken Fillet Bites (5g)
N1410204
More Menu Ideas
Miso Noodle Bowl

Crunchy Chicken Taco

Vegan Strip Burger

Ultimate Street Food Wrap