Miso Noodle Bowl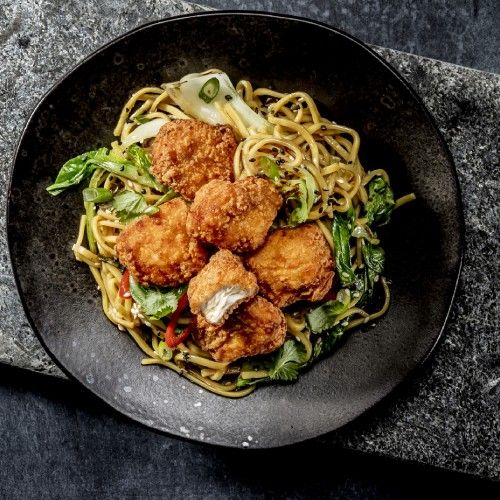 Recreate this delicious Miso Noodle Bowl using our Karaage Bites.

Prep Time

Cook Time
Serves 1
Ingredients
Japanese Style Bites x5
Egg Noodles 200g
Chillies 10g
Spring Onions 10g
Sesame Seeds 5g
Miso Sauce 50ml
Lime ½
Sesame oil 1 tbsp
Method
Step 1
Cook the Japanese Style Bites using your preferred cooking method.
Step 2
Boil the egg noodles till soft.
Step 3
Once the noodles are cooked strain them in a colander.
Step 4
Using a hot wok, add the Sesame oil and fry the spring onions and chillies. Then add the noodles and sauce and the Japanese style chicken bites.
Step 5
Pour the contents of the wok into a serving bowl and garnish with sesame seeds and half a lime.
Miso Noodle Bowl Menu Idea
Related Products
Goodness Me Crispy Chicken Bites (21g)

G1450500

Meadowvale Battered Chicken Fillet Bites (30g)

G1450508

Meadowvale Southern Fried Mini Chicken Bites (8g)

N1410203

Meadowvale Pickin Chicken (15g)

N1410224

Homestyle Hot & Spicy Chicken Bites (15g)

N1452007
Goodness Me Crispy Chicken Bites (21g)
G1450500
Meadowvale Battered Chicken Fillet Bites (30g)
G1450508
Meadowvale Southern Fried Mini Chicken Bites (8g)
N1410203
Meadowvale Pickin Chicken (15g)
N1410224
Homestyle Hot & Spicy Chicken Bites (15g)
N1452007
More Menu Ideas
Firecracker Salad

Crunchy Chicken Taco

The Buttermilk Chizza

Chicken Pho Noodles