The Buttermilk Chizza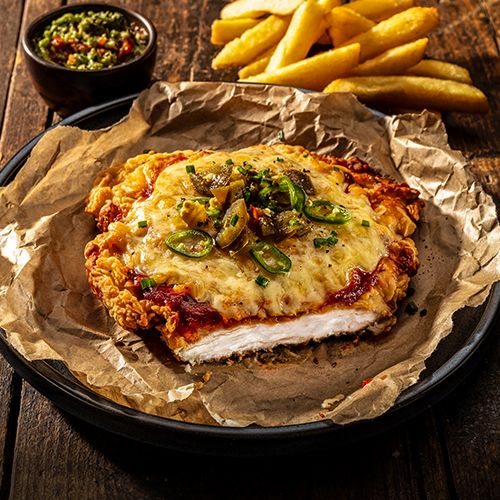 This Chicken Fillet Pizza is trending! Easily recreate it with our delicious Homestyle Buttermilk Fillets.

Prep Time

Cook Time
Serves 1
Ingredients
1x Buttermilk Chicken Fillet
20ml Chipotle BBQ Sauce
50ml Cheese sauce
5g Chopped Chives
150g Skin on fries
20g Pickled Pink Slaw
5g Cajun Seasoning
10g Jalapenos
Method
Step 1
Cook the Buttermilk Chicken Fillet using your preferred cooking method.
Step 2
Place chicken on an oven tray and spoon on the chipotle BBQ Sauce then drizzle over the Cheese Sauce and Bake in the oven for 5 mins until the cheese begins to bubble and brown.
Step 3
Place the chicken on a serving tray lined with Greaseproof paper and top with Jalapenos and chives.
Step 4
Serve with Skin on fries tossed in cajun seasoning and a pot of Pickled pink slaw.
The Buttermilk Chizza Menu Idea
Related Products
Meadowvale Southern Fried Chicken Fillets (150g)

N1411917

Meadowvale Crispy Battered Chicken Fillets (120g)

N1412301

Homestyle Breaded Chicken Fillets (120g)

N1452001

Homestyle Hot & Spicy Chicken Fillets (120g)

N1452002

Homestyle Southern Fried Chicken Fillets (120g)

N1452003
Meadowvale Southern Fried Chicken Fillets (150g)
N1411917
Meadowvale Crispy Battered Chicken Fillets (120g)
N1412301
Homestyle Breaded Chicken Fillets (120g)
N1452001
Homestyle Hot & Spicy Chicken Fillets (120g)
N1452002
Homestyle Southern Fried Chicken Fillets (120g)
N1452003
More Menu Ideas
Miso Noodle Bowl

Vegan Strip Burger

Firecracker Salad

Classic American Burger