Vegan Strip Burger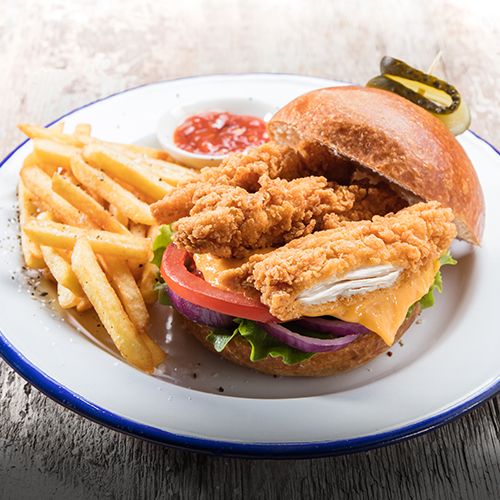 Prep Time

Cook Time
Serves 1
Ingredients
x3 The Original Vegan Strips
20g Pickled Pink Slaw
15g Lettuce
5g Cajun Seasoning
x2 Beef Tomato slices
15ml Vegan Mayo
x1 Vegan Cheese Slice
x1 Brioche Bun
x2 Gherkin Slices
15ml BBQ Sauce
Method
Step 1
Cook the chicken and fries using your preferred cooking method.
Step 2
Toast the Brioche bun on a chargrill to create bar marks.
Step 3
Build up the burger with BBQ sauce, lettuce, Gherkins, Tomatoes and the chicken strips.
Step 4
Top the strips with a vegan cheese slice, mayonnaise and the bun.
Step 5
Toss the fries in Cajun seasoning and serve on a tray lined with greaseproof and a pot of Pickled pink slaw.
Ingredients
x3 The Original Vegan Strips
20g Pickled Pink Slaw
15g Lettuce
5g Cajun Seasoning
x2 Beef Tomato slices
15ml Vegan Mayo
x1 Vegan Cheese Slice
x1 Brioche Bun
x2 Gherkin Slices
15ml BBQ Sauce
More Menu Ideas
Firecracker Salad

Ultimate Street Food Wrap

Chicken Pho Noodles

Loaded Fries